Signature Global Superbia Sector 95 Gurgaon
The pioneer in the real estate domain, Signature group, has come up with another affordable housing complex in the prime location of Gurugram. A home may be a one-time investment for you, but for Signature group it implies life-long happiness for their clients. In a populated city like Gurugram, founding an affordable housing complex may be as tricky as nailing jelly to a tree. However, with Signature Global Superbia Sector 95 Gurgaon, you can fulfill the desire of your dream home in the happening city of Gurugram.
Signature Global Superbia Sector 95 Gurugram is the ideal project for classy occupants who are looking for a unique combination of quality with affordability. By staying in Signature Global Superbia, you can enjoy excellent connectivity with the rest of the cities. The Signature Group is fanatical about quality, and this affordable housing complex is no exception, and in the modern, spacious apartments you can witness quality at the core. The luxurious amenities in Signature Global Superbia Sector 95 Gurugram will be apt for your high-end lifestyle.
Signature Global Superbia
Signature Global Superbia is enveloped by the verdant views which will act as your eye tonic and will keep you rejuvenated.
The cutting edge designs and the architectural excellence will wow your guests and the welcoming neighborhood will make your stay memorable in this housing project. The well-ventilated rooms and the bright sunlight flowing across every corner of the rooms will keep diseases at bay.
Hence if you are looking for the best dwelling hub for the modern occupants then look no more. Trust us! your dream and economical home is just a call away. Our customer support team consists of a troupe of dedicated professionals who leave no stones unturned to provide you timely responses to your queries and concerns. Book your dream apartment at Signature Global Superbia Sector 95 Gurgaon now.
Location Advantages
Bang on 60 mtr wide road.
Sultanpur Bird Sanctuary at 8 km distance.
25 Minutes drive from IGI Airport Delhi.
Easy and smooth connectivity From Pataudi Road, NH-8, Dwarka Expressway and KMP Expressway.
12 Km form AIIMS National Cancer Institute Jhajjar.
15 minutes drive from Delhi.
Price List
| | | | | | | | |
| --- | --- | --- | --- | --- | --- | --- | --- |
| S.No | Category (Type) | No. of Units | Carpet Area sq. ft. (approx) | Balcony Area sq. ft. (approx) | Allotment Rate of Apartment (all inclusive)* | With Application Booking Amount 5% | On Allotment 20% |
| 1 | 2BHK TYPE-1 | 264 | 585.174 | 87.511 | 23,84,452 | 1,19,223 | 4,76,890 |
| 2 | 2BHK TYPE-2 | 474 | 594.517 | 84.928 | 24,20,532 | 1,21,027 | 4,84,106 |
| 3 | 2BHK TYPE-3 | 240 | 585.562 | 87.511 | 23,86,004 | 1,19,300 | 4,77,201 |
| 4 | 2BHK TYPE-4 | 30 | 595.637 | 84.928 | 24,25,012 | 1,21,251 | 4,85,002 |
Floor Plans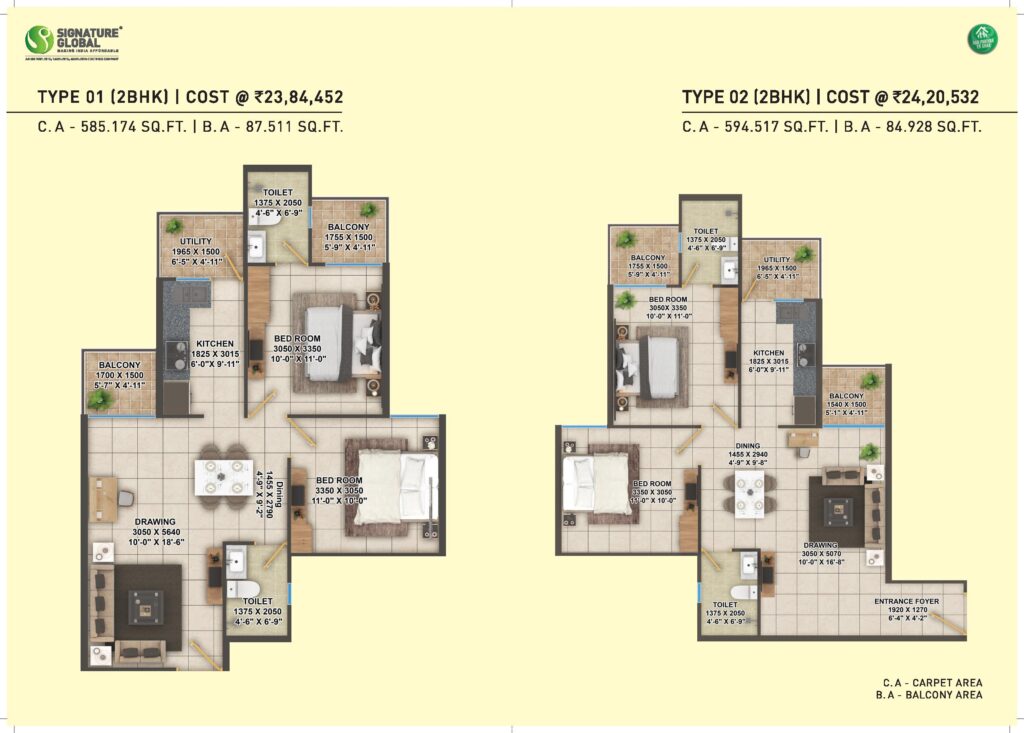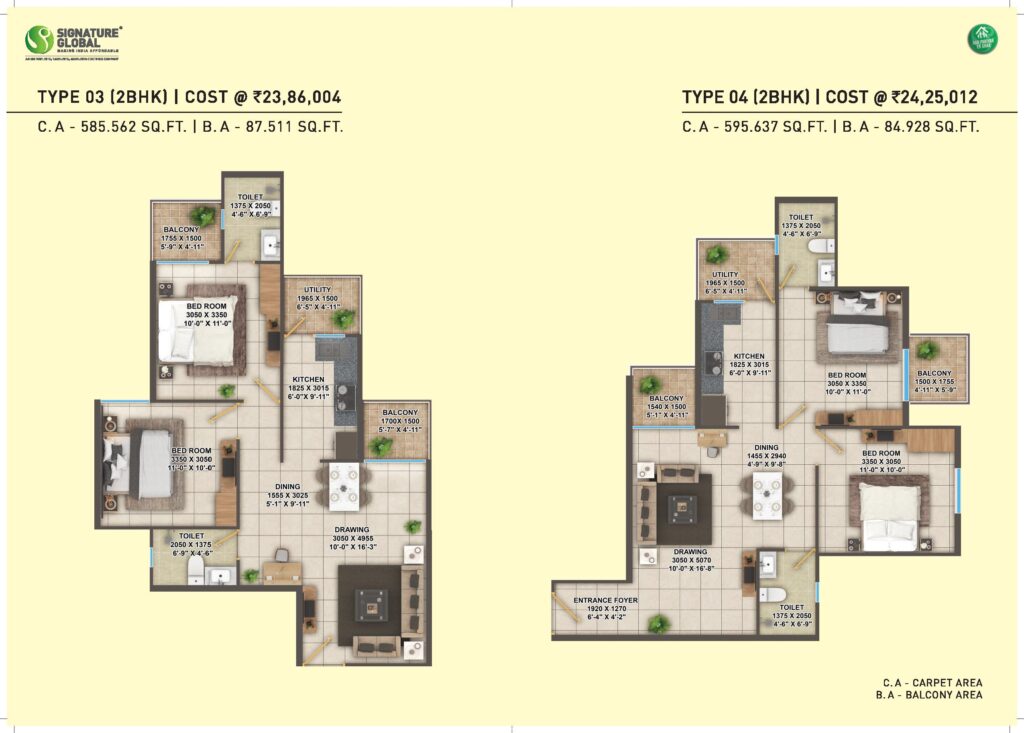 Site Plan